Which Accounting Software is Right for my Business?
One of the main reasons small businesses fail is because they don't have a good bookkeeping system. Particularly if you have employees or inventory, a good accounting system will keep you on track. There are some businesses still doing books by hand or using spreadsheets, and there is nothing wrong with that however accounting software is the most efficient, effective and reliable choice.
One of the main considerations for software should be – will it suit my business needs. Here are some things to consider when looking for software for your business:
Payroll:
If you have employees, you want to be sure all your payroll can be calculated (and even automated). Xero can incorporate a program like Deputy which interprets awards, leave, timesheets etc. If you have employees, this is a must to consider!
Stock & Tasks
Can the system track stock, WIP, orders, jobs and other task management requirements?
Customer Relationship Manager
If you have a customer base, can it offer a CRM (customer relationship manager) solution?
Payments
Can it handle bank integrations and varying payment options?
Accessibility
Does it use the cloud? Can it be easily accessed by your bookkeeper or by you on the move?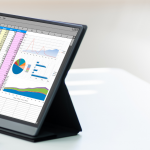 Cost is a big driving factor and probably the reason many small business owners have filing cabinets full to the brim and a love/ hate relationship with Excel.
What software do we recommend?
Well there is no one size fits all approach when it comes to accounting software as everyone's needs are different. Most of our clients use Xero, a lot use MYOB, some use QuickBooks and others use smaller platforms. We can provide advisory and training based on your needs.
At Sum and Substance we know the importance and need for the right software for your business. As leading experts in many accounting software platforms and love helping business owners find a solution to fit their business perfectly. We offer a set up and training service which is very popular and helps ensure you get the most out of your software. Neha would love to have a no obligation chat. We can be reached at (03) 9424 9447 or info@sumsubstance.com.au. You can also directly book in a time to chat by clicking here.